Sunken ships in LEGO® bricks are moving into the Vasa Museum
08 November 2023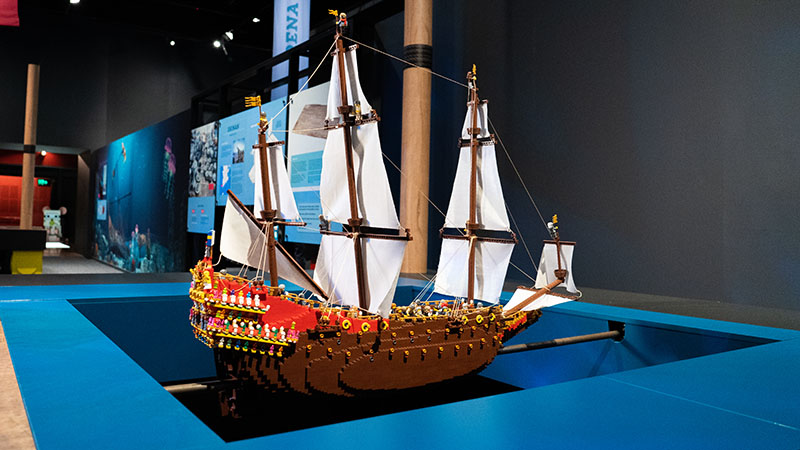 Brickwrecks is coming to the Vasa Museum in February. Brickwrecks is an exhibition featuring LEGO® models that bring to life eight world-famous shipwrecks, including Vasa. In the exhibition, visitors can sink the Vasa, test out different archaeological methods and, of course, build with LEGO®.
"I am delighted that the Vasa Museum has been entrusted with this exhibition, which uses LEGO® to take visitors on a journey of discovery that is unique in nature. The exhibition is just right for our mission, as we aim to attract a greater number of young visitors. I have high expectations that many people will want to come and see the exhibition," says Jenny Lind, Vasa Museum Director.
From Australia to Sweden
Brickwrecks was built by professional LEGO® builder Ryan "The Brickman" McNaught for the Australian National Maritime Museum. The exhibition was not originally intended to be a travelling exhibition and has previously only been shown in Australia, but after Sweden and the Vasa Museum, its journey continues in Denmark. In the exhibition, visitors can learn about several famous shipwrecks. In addition to Vasa, the exhibition tells the story of the luxury passenger liner Titanic, the 17th century ship Batavia and HMS Pandora.
Historical shipwrecks
Eight famous shipwrecks have been built for the exhibition. They are:
Vasa, our world-famous Swedish ship that sank on its maiden voyage in 1628.
One of the world's oldest known shipwrecks, which sank off the coast of Uluburun in Turkey around 1300 BC.
A Chinese ship that sank in 1323 near the Sinan-gun county of South Korea.
Batavia, a Dutch merchant ship that sank in 1629 near Australia.
HMS Pandora, which sank in 1791 on the Great Barrier Reef while chasing the mutineers from the ship Bounty.
The two ships HMS Terror and HMS Erebus, which sank in 1848 off the coast of King William Island, Canada while searching for the Northwest Passage.
RMS Titanic, the luxury passenger liner that sank in the North Atlantic in 1912.
MV Rena, a container ship sailing under the Liberian flag that sank off the coast of New Zealand in 2011.
Dates and tickets
Brickwrecks is a temporary exhibition that will be at the Vasa Museum from 8 February to 29 September 2024. Tickets will be available on the website.